Senior Research Scholars
The Benjamin H. Griswold III, Class of 1933, Center for Economic Policy Studies fosters communication among members of the academic, business, and government communities. The Griswold Center for Economic Policy Studies (GCEPS) funds the appointment of a senior research scholar in the Department of Economics. In February 2019, William C. Dudley was appointed as the inaugural Senior Research Scholar.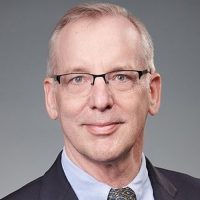 William C. Dudley is a member of the Group of Thirty and the Council on Foreign Relations. He served as president and chief executive officer of the Federal Reserve Bank of New York from 2009-2018 and as vice-chairman of the Federal Open Market Committee (FOMC). Previously, Dudley served as executive vice president of the Markets Group at the New York Fed, where he also managed the System Open Market Account for the FOMC. Prior to joining the Bank in 2007, Dudley was a partner and managing director at Goldman, Sachs & Company and was the firm's chief U.S. economist for a decade. Prior to joining Goldman Sachs in 1986, he was a vice president at the former Morgan Guaranty Trust Company.
As Senior Research Scholar in the Department of Economics and Lecturer in Public Affairs in the Princeton School of Public and International Affairs, Dudley has taught WWS 524: Advanced Domestic Macro: Lessons of the Great Financial Crisis and ECO 493/FIN 593: Financial Crises; and served as an adviser for Princeton's College Fed Challenge Team and for seniors in the Department of Economics. In addition, Dudley speaks at GCEPS-sponsored public talks and holds informal meetings with faculty, undergraduate and graduate students, and Center members.
Recent research has focused on the lessons of the Great Financial Crisis and the Covid-19 pandemic with respect to market function, financial stability, and regulation. What changes made post GFC were effective? What lessons does the experience of the pandemic teach us about what more there is to do?
Looking forward over the next two years, areas of interest include Treasury market and repo market function and US monetary policy. With respect to the US Treasury market, what should be done to mitigate the type of "dash for cash" behavior that we saw in March 2020? How can we avoid the stress we saw in the Treasury repo market in September 2019? With respect to US monetary policy, the focus will be on assessing the shift in the Federal Reserve's long-term monetary policy framework and how that shift has been operationalized. What are the benefits of the new regime? What are the costs?